When it comes to growing cannabis seeds, you want to be confident that you will be getting the highest possible yield from your cannabis plants as possible. While a lot can be said for the growing and germination conditions, arguably the largest factor in terms of the yield that you will achieve from your cannabis seeds will be that of the strain of the seed and the genetics which they have.
So, what are the highest yielding cannabis strains? What factors can affect the overall yield that you achieve from your cannabis seeds?
Factors Affecting The Yield From Your Seeds
While a large part of the overall yield from your seeds will be based on the variety of seeds that you buy and their unique genetics and capabilities, there will also be a large amount of influence from the environment in which the seeds are nurtured and grown. As a cannabis grower, you should thusly work to understand both the genetics and the environmental factors in order to achieve the best yields that you possibly can from your seeds. After all, seeds are incredibly expensive to buy—for the highest return on investment (ROI), the yield that you achieve from your seeds is essential.
One factor that will influence the yield that you achieve from your cannabis seeds is that of the environment in which the seeds are grown—namely, whether they are grown indoors in controlled conditions or outdoors, and at the mercy of the elements. Different strains of seeds will be able to tolerate outdoor growing better than others; auto-flowering seeds generally give lower yields than their standard counterparts, but the seeds will also be far more durable for outdoor growing operations thanks to their native Russian ancestry. However, it will almost always be the case that seeds cultivated in outdoor exposed conditions will perform far worse in terms of yields than their indoor-grown counterparts. As such, this article will be focusing solely on the fastest-growing indoor plant varieties.
Another factor that can affect the yield of your cannabis seeds, if you do choose to grow them indoors, is that of the bulb and lighting that you use. There are many different types of lights that growers can choose to use and these will largely vary in their efficacy and power; incandescent lights, for example, should never be used to grow cannabis due to their poor ability to grow and develop cannabis plants. These were used in the past, but have since been replaced by CFLs and LEDs that give far superior results.
You should also consider the container that you use for growing your seeds. Generally speaking, larger pots will result in larger plants that can give bigger yields—although some seeds will do better when using smaller pots, such as in the case of the Sea of Green technique.
Of course, the grower's experience and ability to recognize problems in their setup will also have a significant impact on the overall yield of the seeds. Ideally, growers should always try to choose seeds that are better suited to their experience level in order to maximize the amount of yield that they can achieve.
The Highest Yielding Indoor Strains
When it comes to growing seeds indoors, you will likely have a fairly large number of expenses that you will have to pay out when compared to growing plants outside. In addition to this, the time required to keep indoor plants healthy and growing well can also be higher—meaning that you will want seeds that will give you the highest possible yield.
So, what are the highest yielding cannabis seeds?
Boasting a fairly impressive 550 grams per day when grown indoors, the Alaskan Purple hybrid plant originates from Spain and is notable for being an easy plant to grow. This variety is a 50/50 cross between the Sativa and the Indica plants and results in a cerebral and relaxing high.
This particular strain offers a sweet and fruity taste and aroma, with berry undertones being the most notable. It is specifically bred for growing indoors and has been selected for traits that will make it hardy, adaptable, and resilient—meaning that it is a great plant for all skill levels.
In addition to this, the Alaskan Purple variety is great for people who want a faster-maturing plant. It will begin to flower at approximately 60 days since planting, although it should be noted that this is controlled by photoperiods and so will not automatically begin to flower if the growing and lighting are not right. It generally grows to a height ranging between 100 and 200cm.
Maturing in as little as 60 days, this photoperiod plant is a great choice for amateur and medicinal growers in particular thanks to the fact that it is mild in terms of the THC content of the crop of approximately 10 to 15%. As such, the high that is generated as a result won't be a "knock you off your feet" kind of high and would instead be cerebral and stress relieving.
The Blue Ice OG is an 80/20 cross between Indica and Sativa and is bred to be incredibly easy to care for. This is primarily owing to the fact that the strain features a strong vegetative growth period; it is also tough and resilient, meaning that even the most novice of growers will be able to have good results when planting this strain.
With average yields of somewhere in the region of 550 grams per square meter, this strain is a good choice for someone looking to start off in the marijuana growing industry.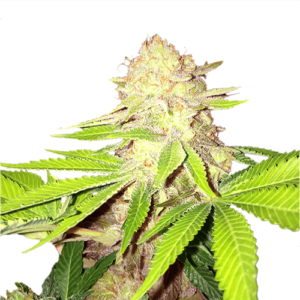 With yields achieving a relatively generous 550 grams per meter squared in the right conditions, this strain is forgiving and easy to grow and will result in a relaxing, mood-enhancing, and calming high when consumed. Its THC levels are more modest at about 18%, making it a good choice for both new recreational users and medicinal users.
It has a sweet, strawberry flavor and aroma—unsurprisingly—and is relatively short in stature compared to some other strains at 100 to 150 cm. It flowers at around 50 days after plating, however, it is only available as a clone of the original plant; though this might sound daunting for new growers, cloning cannabis plants is actually a very easy process.
Buy Feminized from Crop King Seeds
When it comes to finding a seed that will be able to give you a strong
high, this is one strain that you don't want to miss out on! As a hybrid between the Indica and the Sativa varieties of cannabis (at a 60:40 ratio respectively), this seed has an impressive and respectable THC content of over 21% and a yield, when germinated and grown correctly, of somewhere in the region of 600 grams per square meter, this strain is sure to be a worthwhile investment.
This strain results in a high that is strong and powerful (as a result of the high THC content) and so is not necessarily suitable for medicinal purposes, although is a great choice for recreational growers; people report that they feel energized and far more creative when using these. In addition to this, the seed relatively easy to grow and so is a potential candidate for a grower with some prior experience to consider.
The yield from this strain is generally in the region of 600 grams per meter squared when grown indoors in the ideal conditions. However, it will need a little more TLC than some other strains and, as a taller plant that can grow between 90 and 170 cm in height, you will also need more space in order to grow it.
It has a distinct lemon flavor with powerful earthy undertones. The crop usually flowers a little earlier than some other varieties at between 50 and 60 days and can come in both photoperiod and auto-flowering varieties.
Buy Feminized from Crop King Seeds
Bred by Sensi Seeds, this strain of cannabis seeds is far milder than some of the rival seeds that are available on the market in terms of THC content; with a decent (but not phenomenal) 16% potency, the high that is created by this cannabis won't leave you feeling half sedated, but rather will help you to relax and sleep easier. It is often taken for the highly euphoric results that it produces and the general mood enhancement.
The flavor of this seed is something quite different to the norm; instead of the fruity notes that most seeds offer, Big Bud is spicier and earthy. It is largely used as a medicinal cannabis strain due to the fact that it has a moderate THC level and is primarily used as a relaxant and an anxiety-reducing product.
This strain typically gives a high yield of 600 grams per meter squared and one of the biggest benefits of this seed is the fact that it has some of the biggest buds available on the market for a large (90 to 160cm) plant.
Buy Feminized from Crop King Seeds
While the Chocolope seeds do admittedly grow to a somewhat awkward size, with the mature height of the seeds standing at between 100 and 200 cm, their yield of 600 grams per square meter indoors is not something to scoff at (which comes as a result of the longer flowering period). This strain is a hybrid cross between the Sativa and Indica varieties (90:10) and flowers at around 9 to 10 weeks after planting—making it about on par with its rival plants. It can also come in both auto-flowering and photoperiod varieties.
One of the primary benefits of this strain is the fact that it is exceptionally easy to grow and so is a suitable crop for all types of cannabis growers—novice and experienced alike!
Best of all, though, this crop doesn't compromise when it comes to strength either; it is high in THC at approximately 21% and is also more generous in terms of the amount of CBD oil that is offers, thereby giving it use from both medicinal and recreational cannabis users!
Chocolope is best known for its highly energizing effects. It features incredibly potent coffee and chocolate flavors with an earthy note as well, making this variety incredibly enjoyable to smell and consume as well; it is often referred to as being the coffee of the cannabis world, and for good reason at that!
Buy Regular Marijuana from Crop King Seeds
Beating the Chocolope strain for the fact that it offers a higher THC content of approximately 23%, this strain is sweet and fruity (although has an odd "skunky" aroma, hence the name). It comes in both auto-flowering and photoperiod varieties and is among the easiest strains to grow, hence making it deserving of its spot as number 4 on our list. It can achieve yields of about 600 grams per square meter, which is generous considering its toughness and ability to grow in any condition.
This strain is slightly later blooming than some of its rivals, however, it arguably makes up for this for its easy-to-grow nature. It high is great for relief from stress and also increases a person's sociability.
Buy Feminized from Crop King Seeds
The White Widow strain of seed is something of a classic and is much loved for many different reasons, but the most notable of these has to be its impressive yields of up to 600 grams per square meter and the highly psychoactive and potent THC content of 25% which helps to contribute to the drug's euphoric, relaxing, mood & creativity boosting, and pain-relieving properties.
The strain is great for both recreational and medicinal growers thanks to its powerful high; on a medicinal score, it is widely used for the purposes of combatting anxiety, depression, and stress. It has a distinctly earthy/woody and flowery smell.
This strain matures in as little as 50 days and can grow to a height of 100 to 200cm, making it a little harder to conceal than some other strains. It is easy to grow and has resin heavy flowers, which makes it a great choice for growing indoors for high yields!
Buy Feminized from Crop King Seeds
The Gelat.OG seed strain has a relatively fast flowering time of 50 to 60 days from the time of planting and this can make it a great choice for people looking for a quick crop. In addition to this, the seeds generally yield about 600 grams per meter squared when grown in the right conditions.
It is a hybrid strain with 80% Indica genetics and 20% Sativa genetics. One of the many benefits of the strain is the fact that these seeds are incredibly easy to grow while still offering a great yield and THC content (at an astounding 25%). This helps to create the powerful high that the strain is so well known for; this strain results in a relaxing and mood-boosting sensation.
This strain offers up strong and potent citrus and flowery scent and flavor, all mixed with sweet and earthy hints.
With a truly phenomenal yield of somewhere in the region of 650 grams per meter square when grown indoors, there can surely be no doubting that the Northern Lights strain is deserving of the top spot on our list of the fastest-growing strains. Bred by Expert Seeds, this specific seed offers many incredible benefits.
Not only is this strain available as both a Photoperiod and an Autoflowering strain—making it great for many different growers and further impressing us that it is still capable of achieving such yields—but it is also an incredibly quick flowerer, with some plants starting to flower in as little as 7 weeks. The cannabis that is harvested from this plant has an earthy, pine-like flavor and aroma, although there are also notable sweet notes that can be discerned too.
While not as high in THC as some of its competitor plants with a THC content of about 20%, the high that Northern Lights creates is still not to be scoffed at: euphoric and relaxing, it is often used for both recreational and medicinal purposes; these can include people suffering from ADHD, pain, insomnia, and a whole host of other conditions.
This strain is average in regard to its size with mature plants reaching 100 to 150 cm in height. It is also an incredibly easy strain to grow and the dense buds make harvesting the crop notably easy too.
Buy Feminized from Crop King Seeds
#1 Canadian Seed Bank (Ships to USA/Worldwide)

PayPal, Bitcoin,Venmo,CC, Cash App,Moneygram

Largest Variety of Strains

Slower Shipping to USA/Canada

90% Germination Guarantee

70% Germnination Guarantee

Pioneer of many popular feminized variants

Pioneer of many popular feminized variants

Use X619P45GV4GU to get 20% Off

Vast Collection of Strains