There are a huge number of different cannabis strains available on the market these days, and it can be tough to choose between them. Indeed, with so many strains (each offering something a little different from the previous), the choice can seem like a mammoth task. Fortunately, our team is on hand to help you decide on the ideal cannabis strain for your needs.
Today, we'll be looking at the Fruity Pebbles seeds strain and why it might be the right strain for you! Fruity Pebbles cannabis seeds produce a plant that's brightly colored with vibrant, eye-catching buds and a fruity flavor, the likes of which you're sure to get hooked on!
So, let's take a look at this unique and highly sought-after cannabis seed strain without further ado! From its basic stats to the best growing methods to use and more, we'll cover it all in our go-to guide for all things Fruity Pebbles!
Basic Characteristics
Fruity Pebbles is an Indica-dominant strain that offers an excellent selection of different features, making it a popular choice for many cannabis growers. The Fruity Pebbles strain, as the name would suggest, has a rich fruity flavor and aroma and provides an almost instantaneous kick! Indeed, one of the reasons that Fruity Pebbles are such popular cannabis seeds is for their nigh-on immediate effects, ensuring you'll be getting the most from your buds almost as soon as you use them!
The Fruity Pebbles cannabis contains three terpenes: limonene, caryophyllene, and myrcene. It has a total of between 19% and 24% THC content and less than 1% CBD, making it primarily a recreational Indica-dominant cannabis strain. It is also incredibly easy to grow and gives a rapid harvest with a moderate yield.
History of the Fruity Pebbles Seeds
The Fruity Pebbles seed strain was bred by Alien Genetics, a cannabis seed brand that's well-known in the industry for its incredibly potent seeds. They created the Fruity Pebbles seed strain by crossing a combination of some of the top cannabis seed strains, including Green Ribbon, Granddaddy Purple, and Tahoe Alien; this combination has created an Indica-dominant strain that doesn't compromise at all on the effects it provides!
There's Only a Very Limited Supply!
Alien Genetics knows what they're doing when it comes to breeding premium quality cannabis seed strains, and they've applied this knowledge well in the case of the Fruity Pebbles OG strain. As such, the Fruity Pebbles strain is only available as a limited-time offer from the brand – and it won't ever be returning. As such, once all of the original seeds have sold, there won't be any more OG seeds available on the market!
In short, Alien Genetics has gone all out when it comes to making their Fruity Pebbles strain one of the rarest on the cannabis seeds market – and that's why it's in such high demand but with a phenomenally limited supply.
Effects of Fruity Pebbles Seeds
So, we've covered the history of the Fruity Pebbles seeds. What's more, we've also established that these seeds are incredibly hard to come by. But surely, you might be wondering: the seeds can't be so sought after for their rarity alone? Well, in this case, you'd be right. In fact, the Fruity Pebbles seeds are in high demand not only for their rarity but also for their incredible effects.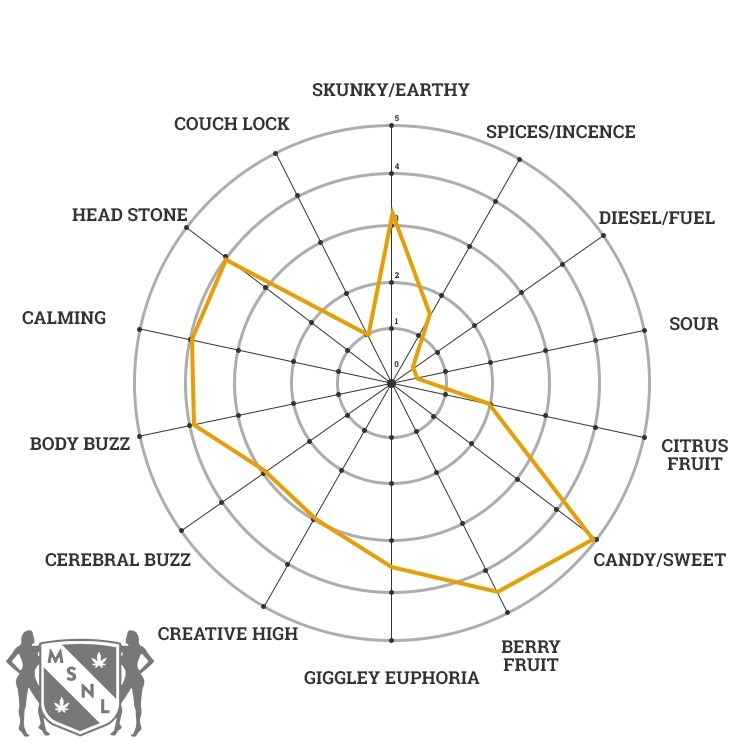 Credit: MSNL Seeds
Fruity Pebbles buds are fruity in flavor and provide effects almost immediately on consumption. Some of the effects of the strain include an instantaneous euphoric sensation. This sensation is then culminated not long after by a sense of relaxation and peace and happiness. Finally, as the original effects begin to ease away, you'll feel a sense of great tiredness, and it's safe to say that you'll sleep especially well after, leaving you feeling refreshed and revitalized when you wake up!
The Fruity Pebbles cannabis strain can be useful for helping with a variety of medical conditions, including PTSD, chronic pain, depression, anxiety, appetite loss, and – unsurprisingly – insomnia. Since it is a low-CBD strain that's potent with THC, its primary purpose is usually recreational, but the medicinal benefits are still sought after by many.
The only real drawbacks in terms of effects are that most users of the Fruity Pebbles strain will develop bloodshot eyes and a dry mouth. Of course, if you take too much in one go, you'll also find yourself sleeping for much longer than you had anticipated, so this is a strain to take in moderation – you don't need much to get great results, anyway!
How to Grow Fruity Pebbles Cannabis Seeds
At this point, you're probably starting to think about how to grow Fruity Pebbles seeds. Indeed, if you have been lucky enough to get your hands on a packet of Fruity Pebbles seeds, you're going to need to make sure that every seed grows to its best potential. After all, you may not ever get the chance to grow Fruity Pebbles OG cannabis seeds again!
Luckily, one of the many benefits of the Fruity Pebbles cannabis seed strain is that it is incredibly easy to grow! Despite offering truly phenomenal quality harvests, the seeds are actually very easy to grow and give a generous yield with minimal inputs.
This makes them easy to grow both indoors and out, and the seeds will cope well in the majority of climates too. What's more, the Fruity Pebbles seeds are notable for their vigor and resistance to pests and mold, compared to some other strains (although that's not to say that they won't get sick if not given the correct care and a hygienic growing environment).
Growing Fruity Pebbles Seeds Indoors
If you want to try growing the Fruity Pebbles seeds indoors, you'll need to allow room for them to grow up to or even above 7ft in height – a nod to its Sativa ancestry, despite the plant itself being Indica-dominant.
Because the strain doesn't require as intense a source of light as many other strains can need, growers can get away with a 600-watt growing bulb or lower, helping to save on the costs of growing the seeds. More light may potentially increase the size of yield, although the effects of this during the growing phase will usually be minimal and not necessarily worth the extra power investment.
Growing Fruity Pebbles Seeds Outdoors
The Fruity Pebbles seed strain is an ideal candidate for outdoor cannabis growing. This is owed to its adaptability to many climates. The strain grows best in equal light-to-shade areas, which is different from many other seed strains that typically require prolonged light exposure in order to thrive. However, keep an eye on your Fruity Pebbles seeds if being grown outside, as high humidity may impact the seeds' ability to grow and thrive due to disease and fungi pressure.
Ideal Growing Conditions
Whether you're growing your Fruity Pebbles seedlings indoors with an artificial light source or outdoors, you'll want to try and ensure the conditions are best suited to its growth. Indeed, if it's likely to be a little too cold for growing (for example), you may want to wait until the weather warms up to give your seeds the best chance of thriving. After all – you may only have one shot at growing these unique seeds.
In terms of temperature, Fruity Pebbles seeds typically grow best at between 60 and 80 degrees Fahrenheit. Meanwhile, the ideal relative humidity range is about 40 to 50%.
The Fruity Pebbles cannabis seed strain is best suited to a Mediterranean-type climate. Fortunately, it doesn't need much TLC compared to some other cannabis strains and can still provide a high-quality, impressive yield, which is a large contributor towards the popularity of the strain.
Flowering Time
Many cannabis seed growers want a quick harvest from their plants – and the Fruity Pebbles strain absolutely delivers on this. The strain can flower at any time between 7 and 9 weeks from germinating, giving growers an incredibly rapid harvest. Indoor-grown cannabis in a hydroponic system will likely mature towards the earlier end due to the more readily available nutrients in hydroponic systems.
Yields
The Fruity Pebbles cannabis seeds will generally provide very high yields in general of up to 500 grams per plant, giving growers the potential to get impressive yields from a small number of plants.
Pros and Cons
Pros
Rapid flowering times

High yields

High potency for THC content

Immediate effects

Easy to grow

Resistant to molds and fungi
Cons
Can cause bloodshot eyes

Expensive to buy per seed

Minimal quantities of seeds available

One-time promotion – the OG seeds will never be available again, only clones of the OGs
Final Thoughts
If you've been on the hunt for a top-quality cannabis seed strain that will grow with ease, not require intensive TLC, and provide high yields of potent buds within a short flowering time, the Fruity Pebbles strain could be the ideal choice for you. Make sure you act fast, though; the seeds will soon all be sold out, and they won't be coming onto the market again!