When it comes to buying weed, there are many different ways that you can go about it. But sometimes, life can get in the way, and getting around to making your order can be something that you forget about until your supplies run low! Well, that's not a problem any longer with the creation of specialist weed subscription boxes—designed to give you the weed you need, at the same time every month!
 Just as with any other subscription-based service, weed subscription boxes will be delivered directly to you at a time of your choosing. The intervals for these boxes can vary, but most subscription boxes are sent out on a monthly basis. In short, you'll never need to worry about getting your weed again—and this is especially true when you choose one of the best weed subscription boxes on the market!
What are Subscription Services?
Subscription services are everywhere nowadays. From cooking and culinary packages which allow you to make your own inventive and high-quality meals to jewelry or toy or magazine subscription services, which deliver new products and content to you every month, no matter the niche you are looking in, you will likely find some sort of subscription option. And the same can be said for the weed industry, too!
 Indeed, subscription services are everywhere and offer plenty of perks for users. As well as providing you with the products or services you love on a regular basis, they usually save you money too! So, from that point of view, what's not to love?
 Weed subscription boxes offer a huge number of different products. Generally, a subscription box for weed will come with everything that you need to enjoy your own weed—and, if you're in a part of the country where marijuana use is legalized, you may even be able to get a weed subscription box that has weed itself included as well.
If you're looking for a weed subscription box that offers you exceptional value for money, then the Daily High Club subscription is likely the one for you! In short, this is a "dollar store" for weed; whatever you might need, you'll find for bargain prices at the Daily High Club. And—get this—their weed subscription plans start from just $1.
Yes, you read that right. It's not a typo. The Daily High Club's subscription plans start from just $1 for the basic subscription, and for this price, you'll get a selection of all the essentials: papers, filter tips, and hemp wicks.
As well as this, the company also offers two other packages which are ever so slightly more pricey, but still exceptionally good value. The Connoisseur plan is priced at just $9.99 and includes everything you'll need for essential smoking as well as some exciting extras, with the total including between 7 and 9 different products. Finally is the El Primo box; this box is charged at $29.99 for a subscription (or can be purchased as a one-off for just $50) and includes a huge number of quality products! Indeed, the price tag is a steal at just under 30% of the standard retail value of $100 or more.
The weed subscription boxes from the Daily High Club are exceptionally good value for money, and it is for this reason that it was deserving of the number one spot on our list. The boxes are delivered in a timely manner, too, and international shipping is also available. What's not to love?
The Hippie Butler is an excellent choice of a weed subscription box for many, with subscriptions starting from just a dollar. The Hippie Butler subscription box is great thanks to its exceptional level of customization; this customization potential guarantees that you will get a box that meets all of your requirements.
There are plenty of options for boxes with Hippie Butler, with the most popular choice being the Butler Box. This is charged at $39.99 a month and is described as being the "ultimate selection for the smoker who wants more", however, prices for packages range between $1 for the basic Party Favor plan and $139.99 for the Master's Club plan.
In short? Hippie Butler has something for everyone! The team even offers easy returns if you're not happy, which is more than can be said for some weed subscription teams.
When it comes to finding a top-quality weed subscription box, the Cannabake Box could be a great choice for you to consider! Priced from a mere $15 per box, this is truly a strong contender on our list of the best weed subscription boxes and is definitely deserving of a high position on our list!
The Cannabake Box is a simplistic and "to the point" box that offers all of the essentials that you will need. The basic Cannabake Box contains five different products for just $15 a month; meanwhile, the team also offer a smoker essential box that is priced at $21.95 a month and contains anywhere up to seven different smoking essentials.
The Cannabake Box is the ideal choice for someone who wants a monthly subscription box that they can rely on. The Cannabake Box is not filled with bits and bobs, but rather, it is a box that will provide you with all of the smoking essentials that you desire! With this box, you can be confident that you will be getting good value for money; in short, you won't run out of paper or filters again!
There is a range of subscription options available, and savings can also be had for long term orders. The only real drawback of this box is that return requests can only be made within 48 hours from delivery; otherwise, though, it is safe to say that the Cannabake Box is the ideal essentials box.
As one of the most popular boxes on our list (at least based on the number of mentions it receives on social media), the Cannabox is a great all-round weed subscription box for an equally exceptional price. Charged from just $13.99 a month, the Cannabox weed subscription offers a huge selection of products for a margin of the standard retail value of the products.
The basic Cannabox subscription is priced from just $13.99 and, as the name would suggest, provides you with everything that you could possibly need to last you the month! Each essential Cannabox subscription offers a selection of products that will surely be perfect for your needs. Alternatively, the Cannabox also comes in a premium range, which will offer you with a huge selection of papers and filters, as well as munchies and hemp wraps. You will likely also get an accessory and a pipe, too! This is available all for the bargain price of just $28 a month, and the team offers discounts for long term subscription plans too.
One of the key benefits of the Cannabox weed subscription box is the variety from month to month. Some subscription boxes offer products that seem similar to the ones from the month before, but the Cannabox works differently. Each month's products are chosen based on a specific theme, which guarantees varied deliveries on a month by month basis.
The Hemper Box is certainly a solid contender for the best weed subscription box, that's for sure. Unfortunately, this box misses out on the top spot due to the monthly cost—however, if it's value for money that you're after, you can't go wrong with a Hemper Box!
The Hemper Box is ideal for new and old smokers alike and contains a huge number of expensive smoking products and accessories. The team behind the box is proud of the fact that their boxes are worth $125 or more; this is all for the bargain price of $39.99. 
All Hemper Boxes are delivered with discreet packaging and usually arrive in about a week. They are great for people who are after top quality products every month and savings are available for long term subscriptions; however, the boxes themselves are expensive and refunds are only available as a store credit, so make sure you are happy before ordering your Hemper Box.
When it comes to weed subscription boxes, Lifted Ladies is not exactly the obvious choice. Perhaps because it's not actually a subscription box. However, if you can look past the fact that you'll need to place a new order once a month instead of having the practicality of orders being placed for you by the website algorithms and systems, Lifted Ladies could absolutely be of consideration for you.
The Lifted Ladies Goody Box is filled with a huge amount of 420 swag for ladies to enjoy, and the limited edition nature of each box means that everything contained within is also exclusive.
The Lifted Ladies boxes come with a huge variety of products that are sure to please; as well as things that you might expect, such as CBD based products, there is also more to be found within these boxes if you can get your hands on one. Some such treats include stash bags, bath bombs, and sometimes even jewelry; that's just naming a few, too! Every item that is contained within the box has also been chosen by hand to make sure that it will truly be a box to remember!
As already mentioned, the Lifted Ladies box is not actually a subscription box, and the fact that it is limited edition may also mean you can't get one every month. However, if you order in a timely manner, you should be able to get a new box every month; if not, they make a great gift for that special lady in your life!
The Doja Box is a unique w8eed subscription box for sure, and it is this uniqueness that makes us confident that the subscription deserves a place on our list! Prices for the box are, as standard, $33; further reductions are then available for longer-term subscription plans. Indeed, plans can be prepaid for up to six months in advance. Moreover, additional products can also be added to the box for their standard retail value with no hassle!
The key benefit of this box is that of the exciting themes that each come with. Though subscribers have the option of choosing either discreet packaging or non-discreet packaging, the box itself is designed with a specific theme in mind. Indeed, the incredible logo and artwork of these boxes is certainly something to be admired.
The Doja Box is a popular choice of a weed subscription box. Each box comes with a number of different items, including a unique Doja bath bomb and a playlist of the month, to make sure that you always have the best tunes to listen to! There are plenty of different products available in each Doja Box, too, which are all designed with creativity in mind! The only major drawback of this box is that refunds may be eligible for a 5% deduction, meaning you won't quite get back all of your money if you choose to cancel your subscription.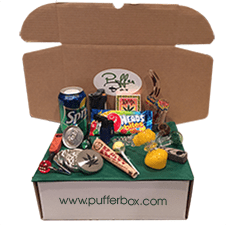 Getting a subscription package in the mail should be exciting, right? Well, not many boxes are more exciting than the Puffer Box! Indeed, this is arguably one of the best subscription packages for stoners due to the huge amount of stuff you'll have waiting for you inside each and every box.
The Puffer Box is available on 3 different payment options: there is a monthly subscription plan, which costs $26 per month, as well as a 3 monthly and 6 monthly plan at $25 and $24 per month respectively. As such, the Puffer Box is tailored to help you save money on your smoking essentials!
Each Puffer Box comes with between eight and ten different products included. Of these, one is guaranteed to be a premium quality glass piece, which is arguably the highlight of the box! The products included in each box are hand chosen by the team at Puffer Box to ensure that the boxes include the very latest awesome smoking accessories. But that's not all—a key benefit of the Puffer Box is that, along with this incredible glass piece, you even get some munchies included as a post-smoke snack!
Puffer Boxes are sent out on the 20th of the month and come with fully discreet packaging. The team also has a selection of one-time purchase gift boxes available.
Puffer Boxes are a great choice of a weed subscription box for many. They represent incredible value for money, come with discreet packaging, and are filled with great premium quality items. The team also offers a flexible cancellation and refund policy—however, shipping is only available within the United States, and so those living outside of the US will need to look elsewhere for their weed subscription box.
The Sensi Box is the next weed subscription box on our list, and this is a popular choice of box indeed thanks to the affordable price and generous cost savings. The Sensi Box, as with the Do You Goody Boxes above, comes in a choice of two different options: the Original Sensi Box retails at $35, or for an even more affordable option, the Light Sensi Box is available for just $20! This makes both boxes arguably among the most affordable options of weed subscription boxes out there.
The Original Sensi Box is the standard offering that most people choose, and includes 7 or more items every month for just $35. Of these, you will be given a selection of glass products as well as monthly essentials that you'll need for all of your weed using needs.
Alternatively, the Light Sensi Box offers a good alternative for people who want a little less kit. If you don't use weed as regularly, perhaps, the lightbox may be the right option for you; at $20, it offers a good selection of 5 different glass and essential products.
The team behind the Sensi Box is proud of the fact that they make every single Sensi Box by hand, with care. They use their own exclusive designs to ensure that every one of their customers "feels the Sensi Box love"!
A key benefit of the Sensi Box weed subscription plan is the versatility in terms of payments. Of course, there is a standard month to month payment option available; for people who are looking to get a longer-term subscription, though, plans are available for 3, 6, or 12 months which offer further savings on the cost of each box.
The Sensi Box is a good option for people looking to save money on their essential weed using necessities. The unique design makes it a great gift for somebody and the boxes are delivered in a timely manner. Furthermore, the team behind the Sensi Box also offers a flexible refund or cancellation policy—but beware, because if you place an order after the 10th of the month, your plan won't start until the 10th of the following month.
The Do You Goody Boxes range has two different options available: the standard "Good Box" and the "Top Shelf" box, which offers a far larger selection of items to choose from. Both of these boxes are excellent choices, depending on what it is that you are after from your weed subscription box! Each box usually has a monthly theme and the subscription service can be canceled at any time.
The Good Box is the more standard option of a weed subscription box. Priced at just $27.98 per month, this box comes with a selection of goodies that have a retail value of over $65, generally between $65 and $100—that's a saving of more than 50% at a time, and potentially even a saving of nearly three quarters! The box comes complete with between 5 and 9 different items every month, one of which is guaranteed to be either a vape pen or some other type of smoking piece. The box comes with free shipping as standard and is shipped out on the 20th of each month.
Alternatively, the company offers its Top Shelf box. The Top Shelf box is a higher value subscription box that retails as standard at $150-$250 or more, however, the company only asks a mere $79.98 a month for the package. Between 7 and 13 items are included in each monthly box for this price, and the company guarantees one of their top-shelf pieces in every box. The Top Shelf box does have a $6.95 shipping and handling fee, however, although this still represents a massive saving compared to buying the items included in the box separately without the subscription. These boxes are shipped out on the 25th of each month to subscribers.
This is a good choice of the box for people who want to save plenty of money and look forward to having lots of variety in their subscription boxes. Arguably the biggest drawback of the box is that of the late delivery time in the month; most boxes are sent out far earlier than this. The expensive prices of the subscription boxes may also put some people off; though they represent a massive saving, it is still a lot of money to pay out every month.